PET OF THE WEEK: MISS ICE
Ice is around 5 months old. The photos do not show how stunning her eyes are. She is UTD on shots, spayed, and microchipped. Ice would very much like to find the perfect family who can give her the loving home she so wants, but also be able to keep up with her busy self:) If you would like to adopt or foster Miss Ice, please contact us or fill out an application. www.pupsinperil.org/adoption/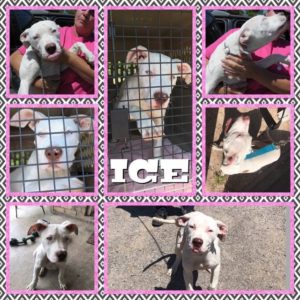 We are very excited to inform everyone that PICASSO decided to move on to our Happy Tails album by adopting himself some amazing parents. Picasso moved into his new home on Monday 1/15/18 🐾❤️🐾 ... See MoreSee Less
I'm pretty sure with his new parents that he doesn't know he's a dog anymore😍.
My husband and I are thrilled to have him as part of our family.We have only had him here a few days and already bit by bit see more of his personality coming through.cant wait for his "calm time" for heartworm treatments to be over so that we can let him play and be silly the way he wants to.he is currently sleeping in our bed and snoring like a freight train.thanks to pups n peril and especially kerstin And Tracy for all that you guys do help the fur baby's and bringing families together.
MY BOY HAS A FAMILY!!!!! I'm so excited I'm crying happy tears ... this guy will always have a super special place in my ❤️ all the time and love put into this amazing fella has paid off !!!! I LOVE YOU Picasso be a good boy and mind your manners ❤️❤️❤️
Doing a happy dance. ❤️❤️I've had this boy in my heart from first time seeing him. Thank you so much for giving him a great home with a comfy bed to sleep in. Makes my heart feel so much better. Can't say thanks enough ❤️❤️❤️
Thank you for adopting Picasso! Godspeed Picasso you deserve a happy life!
Enjoy all your love Picasso and a great life! You deserve it!!
Y'all are awesome for adopting him! I've been posting him every chance I get. I just love him ❤️
His parents are the best they will love him he will not want for anything I know this because she is my sister and her and her husband have such huge hearts when it comes to fur babies he is a very lucky baby to have them as parents and I can't wait to meet my new nephew
Holly get yo happy tears out, Picasso found a forever home ! Happy tail buddy!!!
So happy for him and his new family
I was just talking about him last night. So happy for him!!
Yaaaay ! I'm so happy about that !
Load more